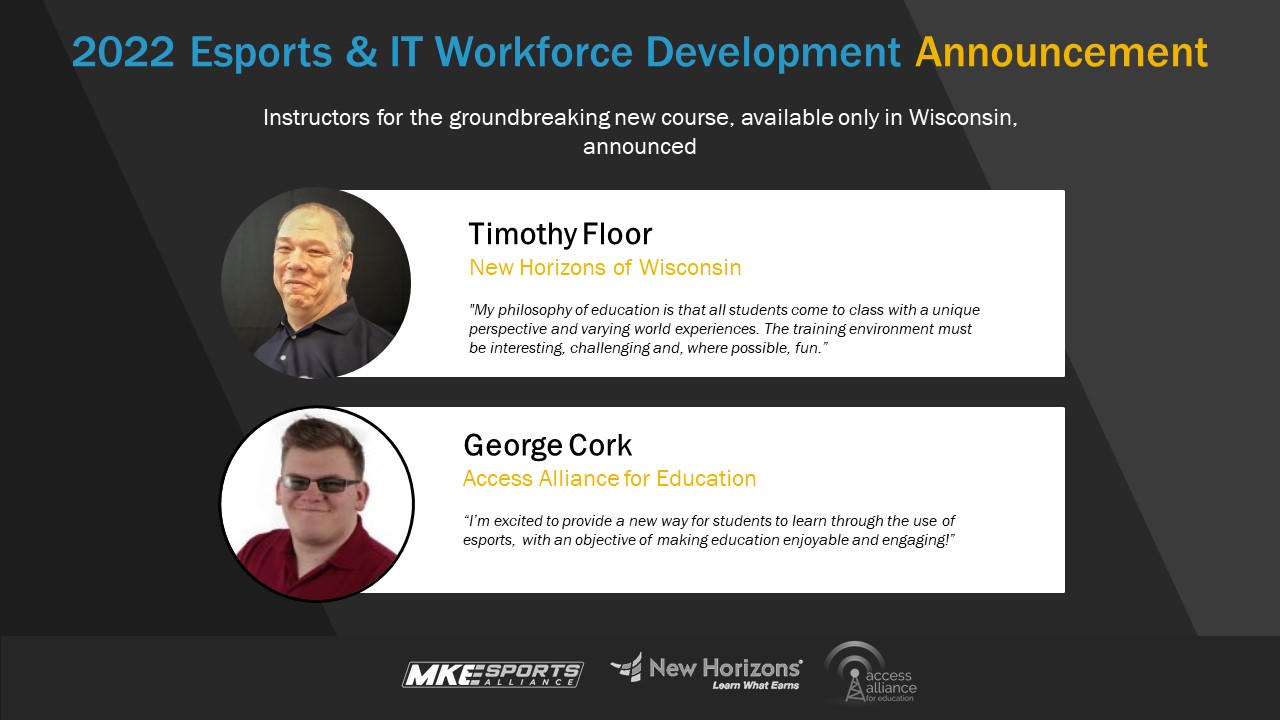 09 Nov

Esports and IT Program Instructors Announced

Experienced faculty are excited to kick-off program and begin to accelerate the IT/Esports career pipeline in the region.

Following the recent press release surrounding Wisconsins first Esports and IT workforce development program, the instructors responsible for leading the January Cohort have also been announced.

Learn more about Timothy Foor (New Horizons) and George Cork (Access Alliance for Education) below:
Timothy Foor
Tim has over 29 years of experience in the corporate training environment. He has provided instruction on a wide range of applications both proprietary and commercially available. Tim is an ITIL Certified Trainer, Microsoft Certified Trainer and CompTIA Certified Trainer. Tim currently teaches all Microsoft titles going back to 2003, ITIL, CompTIA, Adobe products and Train the Trainer.
Tim has been teaching with New Horizons since early 2010 and has been recognized by New Horizons 4 times as a Global Top 10 Award recipient. Tim has achieved Top 10 in the World recognition by New Horizons based on student evaluation scores.
George Cork
George Cork has a BSc in Computer Systems and Networks from the University Of Plymouth. During secondary school he was very involved in politics representing his constituency as a Youth Councillor for the KYCC (Kent Youth County Council). Whilst part of KYCC George would lead an initiative called 'Curriculum For Life' which would be about teaching students more about life lessons during PSHE to make them more prepared for the wide world, this would consist of skills such as: tracking their money, taxes and other key life lessons. He would go on to present this to senior Leadership team for his school.
His most recent venture has had him achieve some impressive accolades such as being shortlisted for Top 35 under 35 CEOs in the world in 2019, as well as being invited to Collision 2019 due to his most recent venture into esports education. Furthermore, due to his expert level understanding of the collegiate market worldwide George has conducted guest lectures and presentations at universities within the UK as well as worldwide whilst also appearing on panels of world renowned events to speak about esports within education and the impact it can have. George has been teaching the Esports Management course at Mount Royal University(Alberta, Canada) for over a year now focusing on the esports operations aspect of the course. George aims to provide a new way for students to learn through the use of esports, with an objective of making education enjoyable and engaging!
If you would like to learn more about the MKEsports Alliance or how to get involved, please email brandon@mkeesports.com.