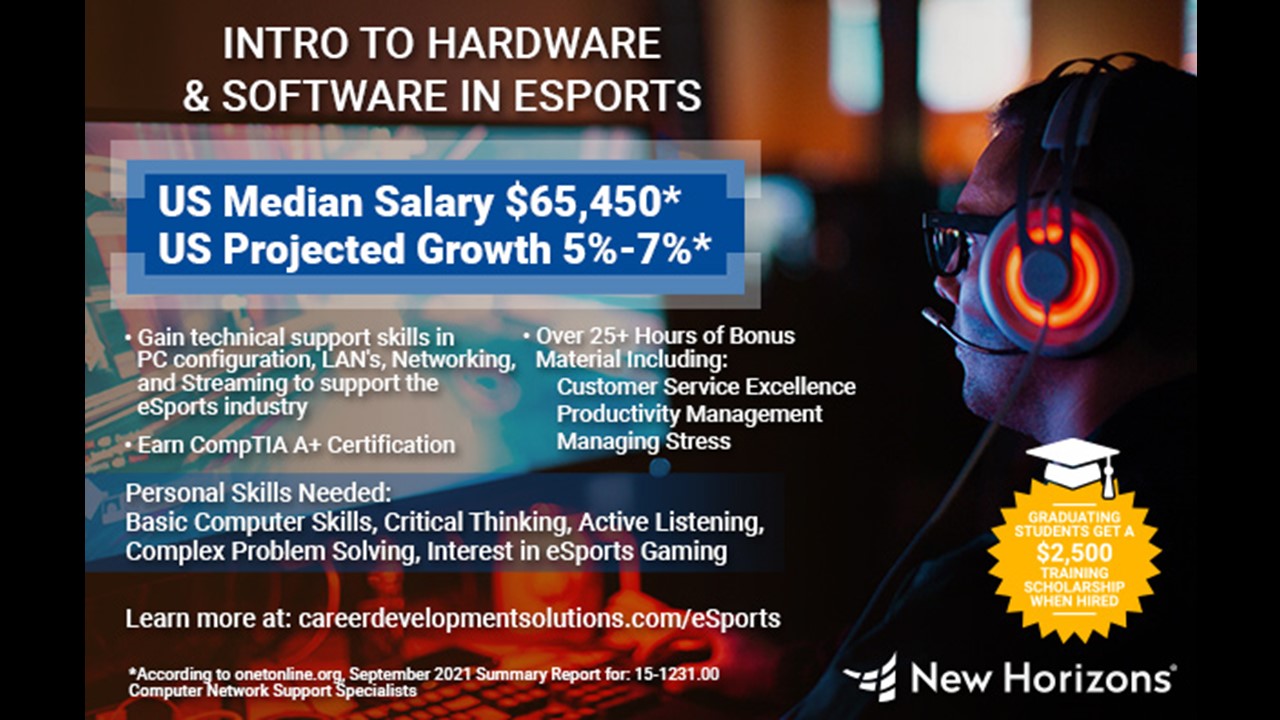 21 Oct

Wisconsin's First IT & Esports Workforce Program Launches

Combine a well-documented existing tech industry employment gap, an essential community need to focus on diversity and inclusivity, alongside a once-in-a-generation explosion of interest in competitive gaming (Esports) from the Gen Z/Millennial demographics and you are given the catalyst parts needed to spark an innovative solution.

Which is exactly what the MKEsports Alliance, New Horizons of Wisconsin and the Access Alliance for Education have come together to do through a first of it's kind IT/Esports Workforce Development Program.
An Alternative Pathway to a Growing Industry and an IT Career
New Horizons of Wisconsin is in the business of providing critical education and upskilling to employed or underemployed individuals, giving them the needed skills to pursue careers in fields they otherwise may not have seen themselves in or had access to through traditional educational pathways.
So when the Milwaukee Esports Alliance approached the organization and described a gap in the educational opportunities currently available to help train and upskill individuals seeking these non-traditional pathways, a group largely comprised of minority groups both in gender and ethnicity, in the growing industry of esports – they were all ears.
Abbey Diedrich, a Career Development Manager at New Horizons of WI who helped create the program noted:
"It's widely known that there is a gap between the tech jobs employers are offering and available workers to fill them. With this program we saw the opportunity to provide a creative solution that combines filling jobs in the near term and creating inclusive access to education that can lead to either a career or even starting a business in a space they love (gaming) in the longer term."
Filling a Needs Gap and Helping Create Access
As of the writing of this article, a search on Indeed.com returned that over 500 jobs in the Milwaukee area require, in part, the attainment of the Comp TIA A+ certification that New Horizons facilitates.
With this known demand from tech employers as a baseline, alongside the Comp TIA A+ certification's emphasis on computer Hardware and Software education – it made the perfect partner to accompany an esports curriculum (Provided by the Access Alliance for Education) which provides an intro to the industry, along with additional testing and education for esports hardware and software specifically.
Experis Game Solutions (A Division of ManpowerGroup) is planning on adding 100+ Gaming Quality Assurance jobs to the Milwaukee Area in the next 12 months. Gavin Kennedy, a Senior Director  in Game Solutions for Experis said of the program and how it can help them:
"We're incredibly exited to get a chance to interview and work with the participants who come out of this new program to help fill our Quality Assurance and Gaming roles as we grow in the Milwaukee area. Having a background in gaming, alongside IT make for great characteristics in the positions at our organization. We anticipate a deeply beneficial partnership, for both organizations, in the years to come."
Full Scholarships Available, Inclusivity and Accessibility is Critical
"One of the greatest parts of gaming culture, is it's availability and playability across all ages, races and genders. There is no question the next generation and to some degree even previous, use gaming as a focal point for connecting, interacting, and living life together. However, while the gaming is equitable and accessible, the path to getting an education or experience from a career perspective – has not been. Our sincere intention to help start breaking down those barriers with this program"
Quoted above, Brandon Tschacher of the MKEsports Alliance has been a critical driving voice throughout the program's creation, emphasizing the need for accessibility and opportunity for individuals of diverse economic and ethnic backgrounds. 
Where to Learn More
To learn more about the specifics of the program, or apply – please visit
https://www.careerdevelopmentsolutions.com/esports
Information and contacts for the participating organizations below:
New Horizons of Wisconsin
Contact: Abbey Diedrich (adiedrich@newhorizonswi.com)
Website: https://www.newhorizonswi.com/
MKEsports Alliance
Contact: Brandon Tschacher (brandon@mkeesports.com)
Website: https://www.mkeesports.com/
Access Alliance for Education
Contact: John Hillsman (john@accessalliance.education)
Website: www.accessalliance.education
If you would like to learn more on how to get involved in the MKEsports Alliance, please email brandon@mkeesports.com.