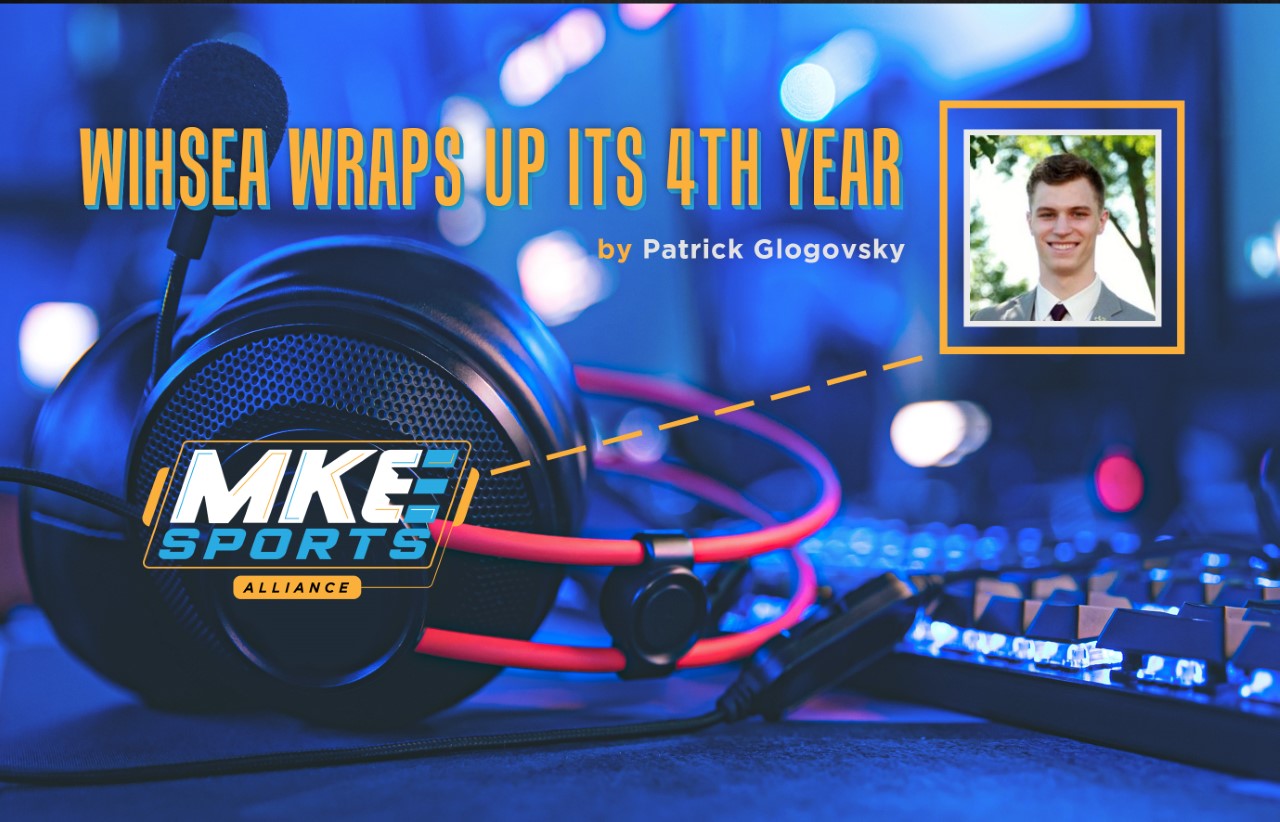 25 May

WIHSEA Wraps Up Its 4th Year
Wisconsin High School Esports Association Wraps Up Its 4th Year
Written By: Patrick Glogovsky (MKEsports Alliance Contributor)
As many high school esports programs around the nation finished their inaugural seasons, the Wisconsin High School Esports Association (WIHSEA) wrapped up its 4th year in an impressive display of gaming athletics and competition. The Association, which represents over 80 high school esports programs across the state of Wisconsin, held their 2021 Spring playoffs on May 8th. The playoffs took place in a virtual format in order to abide by COVID-19 state health protocols, but that did not hinder the success and the excitement of the tournament.
Let the Games Begin
Twelve teams and nearly 60 students competed in the playoff tournament, all with the goal to take home the gold in their respective game. Although the Association's playoffs typically feature several premiere esports titles, the pandemic and the ensuing struggle the education system faced as result limited the games played to Rocket League and SMITE. However, the tournament brackets that did take place saw phenomenal success and did not disappoint the 400 unique viewers.
This was the first year that the WIHSEA introduced a competitive SMITE league. The game has been around for some time but has always been a less mainstream and less popular game than older, more traditional esports titles. However, the athletes playing on their SMITE teams could not have been more excited for the addition. When the fighting was done and the dust had settled, it became apparent that Random Lake High School was the best SMITE team in the state, after they beat Clinton High School to take the title. It was a fantastic and exciting way to end a successful pilot season for the new league.
On the other side of the playoffs was Rocket League. Like traditional sports at the high school level, teams in the WIHSEA are separated by division to account for the varying school sizes in the state. Because of this, there were three separate playoff brackets for Rocket League. Rocket League, due to its viewer-friendly competition and the audience-friendly nature of the gameplay, has been taking the high school and collegiate esports scene by storm. In fact, it is almost unheard of for a school to have an esports program and not have an accompanying Rocket League team. As a result, Rocket League competitions are much more competitive, and the gameplay is much more cerebral. Following this trend, the three Rocket League tournaments that took place on May 8th were an incredible display of high-level performance and the matches did not disappoint.
At the Division 3 level, Stratford High School went on to beat Winnebago High School to win the D3 Rocket League championship. At the Division 2 level, Two Rivers High School took the gold after they beat Port Washington High School. At the Division 1 level, a compelling and exciting tournament bracket awaited the young esports athletes.
A Cinderellalmost Story
On one side of the bracket, #6 ranked Whitnall started off red-hot and ended up beating #3 ranked Menomonee falls. After advancing, they were set to play #2 ranked Waukesha West. After a close match-up, Whitnall would again end up beating the favorited team in the match-up, and they found themselves in the semi-finals as the #6 seed.
In the semis, they matched up against #1 ranked Stevens Point (SPASH). SPASH went 7 and 1 in the regular season and were the heavy favorites in the match-up. However, Whitnall, and the Cinderella Story playoff run they had magically conjured up, were not going to go down easy. Their goal was to cement themselves as the best underdogs in WIHSEA history and advance to the finals. After a grueling 5 game series, where both teams showed off their immense prowess, skill and knowledge of the game, SPASH ended up channeling their #1 seed strength and went on to beat the resilient Whitnall High School.
In the finals, SPASH would meet a stacked Elkhorn High School team. Elkhorn, going undefeated throughout the 2021 season, had only dropped 2 games (out of 26) the entire year. They were the heavy favorites going into the finals and they certainly played like it. In absolutely dominant fashion, Elkhorn would go on to sweep SPASH, winning the first 3 games in the best-of-5 series to become the 2021 WIHSEA Rocket League Champions!
Not only was it well-deserved, but it was also quite a poetic victory for Elkhorn, as their special storyline had been in the works for a couple months following an extraordinary announcement made in March.
Elkhorn Area High School: An Esports School
When you think of athletic scholarships, what do you think of? Football, basketball, soccer, or something like that, right? Of course you do, that's what we all think of. Collegiate scholarships have always been given out to the athletes that play those premiere sports by schools that help groom their athletes to become elite and hopefully become nationally recognized. It's a tale as old as time: an athlete enters high school, becomes an absolute menace in a sport, tears up the competition all the way until they're a senior, then the fans wait in anticipation as their favorite high school
 athlete commits to a university, typically known for its success in sports.
This phenomenon, as said before, is usually restricted to the more popular and more revenue driving sports. However, with esports on the rise and with more and more collegiate esports programs popping up, we are seeing young athletes commit to universities with esports programs and earning majority scholarships for doing so. As was the exact story of a talented young athlete named Aidan Hamilton.
In March, the Elkhorn senior became the first athlete to be signed to a majority esports scholarship in Wisconsin. Aidan, a consistently top 100 Rocket League player in the world, committed to play Rocket League for Northwood University in Michigan. Northwood University is a Division 2 athletics school, and it boasts one of the most well-established esports programs in the nation. The program features a lengthy list of games it competes in, has a state-of-the-art facility at its disposal, and already has a national championship under its belt via the 2020 Rocket League national championship. That is the championship team that Aidan will be joining, and he is already eager to bring more hardware to the Timberwolves' trophy case.
Wisconsin's Progressive Vision for Esports Infrastructure
Without trying to take any credit away from Aidan, his incredible work ethic, and his phenomenal Rocket League skill, one has to wonder: if it was not for the WIHSEA, how much harder would it have been for Aidan to get recognized and recruited by premiere collegiate esports programs? Are there other students that are top performing esports athletes that are missing out on being recruited due to lack of visibility or lack of a formal competitive setting? The answer is surely yes, but the follow up question is why? Why is this massive demographic of incredibly talented students being ignored by their educators and their athletics departments?
Not only is the WIHSEA a brilliant, successful, and trailblazing association that the president, Mike Dahle, created in the early years of esports' success in school, but it is also a league that is dedicated to giving young student athletes a chance to compete in something they've always had the passion and love for. Why should these hard-working, driven, and competitive students be brushed to the side when they have the same amount of skill in esports as the football and basketball teams do in their sports? Why are high schools and middle schools ignoring an entire section of the youth population that is interested in competing with their peers? Of course, there are always growing pains when it comes to implementing an athletics program like esports. Skeptics point out the "increased screen time" or the "antisocial nature of video games", but surely if they did a bit of research into what their children are actually hoping to take part in, they would think twice about their doubts.

In the WIHSEA alone, Dahle has received countless testaments to how important the association and competitive esports is to his students. One student said, "Esports, at least at my school, has become a community of playing and learning through the games, and it builds a strong bond between students as well as our teacher advisors".
Another student said, "Esports has made a massive impact on me and the school for sure. During the hard times of the pandemic, it gave me something to look forward to doing and gave me something to enjoy. It also had a positive impact in school because it gave an opportunity to other students who are looking for something new to do or maybe aren't into doing sports and such. It gave them a chance to participate in a school sport, while doing something they enjoy. Which I think all together, is what makes WISHEA possibly one of the best additions to school sports."
This one last comment from one of the athletes is perhaps the greatest summary of esports, especially at the high school level: "If it weren't for esports, I wouldn't have met my teammates which very quickly became my closest friends."
That…That is what other states in the nation are missing out on. For all the other states that don't have their WIHSEA equivalent, that is what you are omitting from your students' lives. Playing competitive video games doesn't increase 'screen time' or make your child anti-social or develop unhealthy tendencies. It creates team camaraderie, lifelong communication skills, inseparable bonds, competitive spirits, and most importantly, friendship.
Mike Dahle has yet to be paid a cent for any of the work he has done for and with the Wisconsin High School Esports Association. But, if it were up to him, he would do it all over again in a heartbeat: "I love every minute I spend building this program across the state. It's so important to our students to have these opportunities in schools," Dahle said. "It creates that connection to their peers, builds their soft skills, has positive outcomes academically, and most importantly, builds friendships across their school and state based upon the games they play. As someone who grew up gaming, I always ask myself, 'how cool would this have been to have in high school?!' and if I get excited about it, I do my best to bring it into the state for our students to experience. I'm happy to spend my evenings building, planning, and organizing all of this for our students".
MKE Home
Imagine if every state had a WIHSEA. Imagine how competitive and healthy the United States esports ecosystem would be if we had a Mike Dahle (and supporting staff) leading a statewide esports program across the nation. We, as role models, adults, and esports fans, should be very grateful for the wonderful things that the WIHSEA has done for our state. Although, it's not just them.
The Milwaukee Esports Alliance, although seven months young, is on the verge of achieving greatness for the esports world in the state of Wisconsin. While Mike and his amazing supporting team took care of the high school scene, Brandon Tschacher and his coalition of Wisconsin natives, are trying to represent Wisconsin esports on a grander scale.
Brandon created MKEsports Alliance with one goal in mind: to put Milwaukee on the map as a growing Esports investment and infrastructure destination. He is attempting to do this by connecting the countless amazing individuals that are leading various esports related initiatives throughout the southern Wisconsin region and facilitating a successful esports ecosystem through the many ideas that are brought forth from this group of people. Without a group like the MKEsports Alliance, doing something like bringing an esports major to the Fiserv Forum would be simply unthinkable. However, now, it is slowly becoming a truly attainable goal.
Beyond these two organizations, Wisconsin is also home to people like James O'Hagan who, on top of being one of the best advocates of high school esports in the state, has his own podcast dedicated to forwarding the esports agenda and exposing it to as many people as possible. He wasn't happy with just being the head of the esports program at the Racine Unified School District, so he took up an executive position at the WIHSEA to help Mike run the organization and further involve himself in Wisconsin esports. You better believe he was first in line to join the MKEsports Alliance when it was founded, as well.

Between these three people, as well as many other unnamed esports leaders in the state, Wisconsin is very lucky. We are very lucky that the passionate esports organizers in our state did not care about the disadvantageous geographical location that Wisconsin esports are plagued by. We are very lucky that we have incredible thought leaders in the esports space that saw an opportunity to create something great and made it happen. We are very lucky that we have people that know how special esports is to everyone involved in it and are doing everything they can to lead the local scene to success. We are very lucky to call Milwaukee our home.
To read more about the MKEsports Alliance, please visit their website and see how you can get involved. To learn more about the Wisconsin High School Esports Association, take a look at their website and see all that they're doing at the high school level. When the day finally comes that every state has their WIHSEA-MKEsports Alliance equivalent dynamic duo, we can say that Wisconsin was one of the first ones to do it!
If you would like to learn more on how to get involved, please email brandon@mkeesports.com.