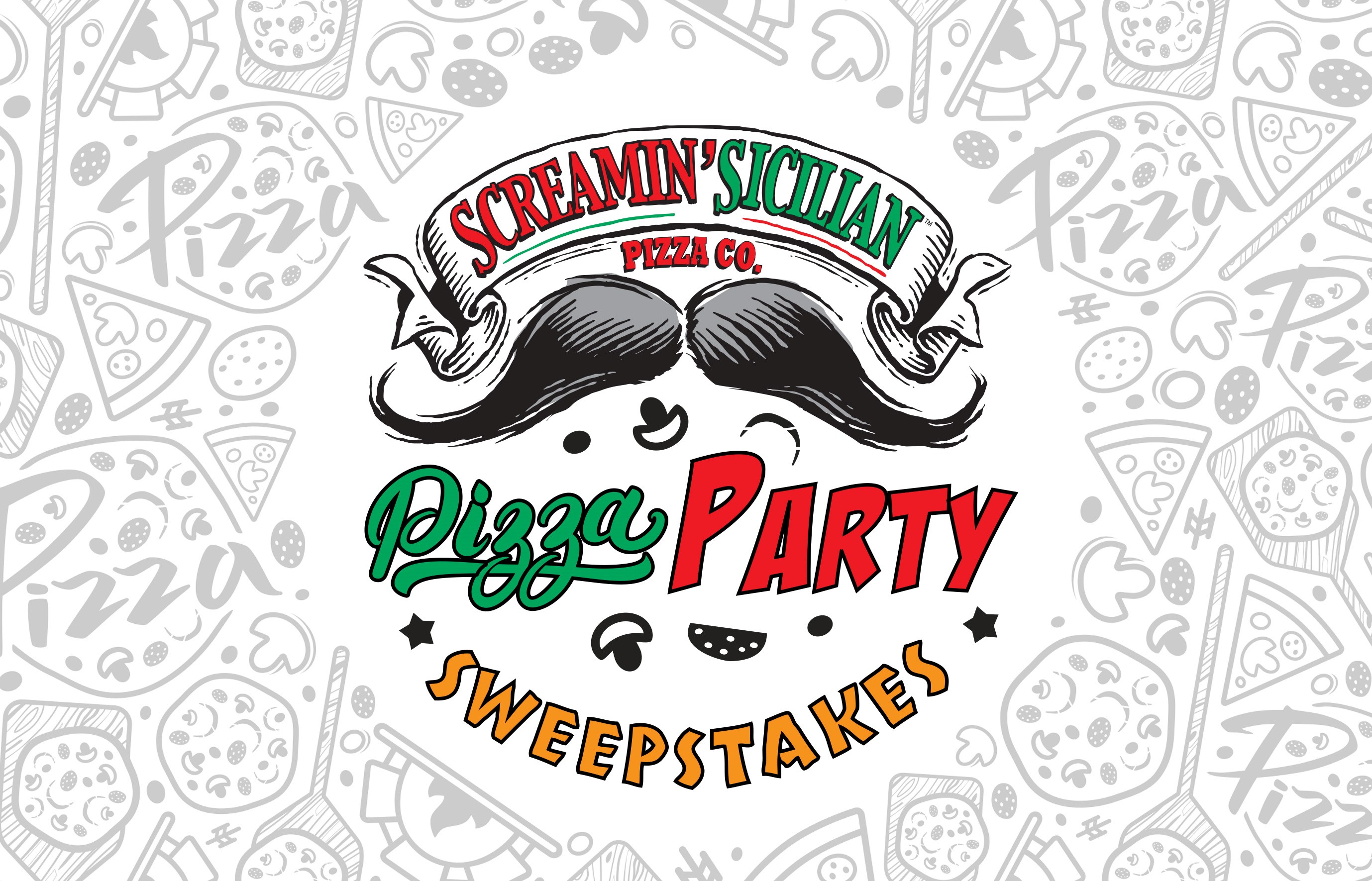 25 Jan

Win a Pizza Party for Your Esports Team

From our friends and supporters at Screamin' Sicilian, comes your esports organization/teams chance at a FREE pizza party!
2022 Screamin' Sicilian Pizza Party Sweepstakes!
Starting February first through December 24th, nominate your esports team or program to receive a FREE pizza party (10 Manufacturer Pizza Coupons – $150/Value) and Screaming Sicilian branded Merchandise!
Each month on the 25th, a winner will be selected to receive!
Winners, make sure to take a picture with your Screamin' Sicilian merch and pizza and post to social media, using the hashtags
#mkesportsalliance
#screaminsicilian
#esportspizzaparty
Official Rules: 2022 Screamin' Sicilian Esports Pizza Club Monthly Sweepstakes
No purchase necessary to enter or win. A purchase will not increase your chances of winning.
Eligibility: The Screamin' Sicilian E-Sports Pizza Club Monthly Sweepstakes (the "Sweepstakes") is open to legal residents of Wisconsin who are eighteen (18) years of age or older as of the date of entry. This Sweepstakes is subject to all applicable federal, state and local laws, rules and regulations. Employees of Palermo Villa Inc. ("Sponsor") and its affiliated companies, parents, subsidiaries, service partners, and advertising and Sweepstakes agencies (collectively, "Sweepstakes Entities"), and their IRS dependents, immediate families (i.e. parents, children, siblings, spouse) and members of their households (whether related or not) are ineligible to participate in this Sweepstakes. SWEEPSTAKES VOID WHERE PROHIBITED
How to Enter: Between February 1, 2022 and December 24, 2022 (the "Sweepstakes Term"), visit https://forms.office.com/Pages/ResponsePage.aspx?id=DUdn96oH9UGmP77XbZXwAxb8q1k1-SVFn8DVnbECGT9UMkJMQTlFVDFESlBPSzQxRklLSU1NTlhHNC4u and complete the online entry form. All entries must be received by 11:59 PM Central Time on December 24, 2022.
Winner Selection: Eleven (11) prizewinner(s) will be chosen randomly from all entries received, and such prizewinner(s) will be notified by email within seven (7) days after the Drawing Date. Eleven drawing dates will take place monthly on the 25th day of each month. Winners will be notified and removed from the entry pool. All other entrants will remain in pool until end of Sweepstakes period. If in the event a prizewinner cannot be contacted or declines the prize, another prizewinner will be selected from the same entries based on the same criteria set forth in these Official Sweepstakes Rules. Chances of winning are based on number of eligible entries received. Prizewinner(s) may be required to complete an Affidavit of Eligibility and Liability/Publicity Release and return same, properly executed, within seven (7) days of issuance of prize(s). Failure to return signed Affidavit of Release within seven (7) days may result in forfeiture of prize.
Sweepstakes Prize: Eleven (11) prizewinners will receive ten (10) manufacturer pizza coupons and Screamin' Sicilian branded merchandise. Merchandise will be determined by Sponsor. The approximate retail value of coupons and prize pack is: $150.00 USD. The Sweepstakes prize is non-transferable and non-assignable to any other person including relatives or friends. Any attempt to transfer, assign or sell the Sweepstakes prize without the express written consent of Palermo Villa, Inc. may result in a forfeiture of the Sweepstakes prize at Palermo Villa, Inc.'s sole discretion. All applicable U.S., federal, state, and local taxes, duties, or other taxes or fees are the sole responsibility of the prizewinner, who may be issued a 1099 IRS tax form for the ARV of any awarded prize. Prize consists only of items specifically listed as part of the prize. The prize is not redeemable for cash. No cash alternative or prize substitutions will be allowed except as determined by Palermo Villa, Inc., in its sole discretion.
Release: By entering, entrant agrees to accept and abide by the rules of this Sweepstakes and agrees that any dispute with regard to the conduct of this Sweepstakes, rule interpretation or award of prize shall be submitted to Palermo Villa, Inc., whose decision shall be binding and final. By participating, entrant agrees to release and hold harmless the Released Parties from any injury, loss, or damage to person, including death, or property due in-whole or in-part, directly or indirectly, to the acceptance or use/misuse of the prize, participation in any Sweepstakes-related activity, or participation in the Sweepstakes. Palermo Villa, Inc. is not responsible for any typographical or other error in the printing of this offer, administration of the Sweepstakes or in the announcement of prizes, including erroneous appearance of qualification for a prize, and under no circumstances will more than the stated number of prizes be awarded. If for any reason Palermo Villa, Inc. is prevented from continuing with this Sweepstakes, or the integrity and/or feasibility of the Sweepstakes is severely undermined by any event including but not limited to fire, flood, epidemic, earthquake, explosion, labor dispute or strike, act of God or public enemy, satellite or equipment failure, riot or civil disturbance, war (declared or undeclared), terrorist threat or activity, or any federal, state or local government law, order or regulation, order of any court or jurisdiction, Palermo Villa, Inc. shall have the right, in its sole discretion, to abbreviate, modify, suspend, cancel or terminate the Sweepstakes without further obligation. If Palermo Villa, Inc. in its discretion elects to so abbreviate the Sweepstakes, Palermo Villa, Inc. reserves the right, but not the obligation, to award the prize from among all eligible entries received to date. All entries are the property of Palermo Villa, Inc. and are not returnable. The use of any automated devices in connection with this Sweepstakes is prohibited. Palermo Villa, Inc. assumes no responsibility for computer system, hardware, software or program malfunctions or other errors, failures, delayed computer transactions or network connections, whether human, technical, or otherwise in nature. WARNING: ANY ATTEMPT BY ANY PERSON TO DELIBERATELY DAMAGE ANY COMPUTERIZED SITE OR UNDERMINE THE LEGITIMATE OPERATION OF THE SWEEPSTAKES IS A VIOLATION OF CRIMINAL AND CIVIL LAWS AND SHOULD SUCH ATTEMPT BE MADE; PALERMO VILLA, INC. HAS THE RIGHT TO SEEK DAMAGES FROM ANY SUCH PERSON TO THE FULLEST EXTENT PERMITTED BY LAW. Palermo Villa, Inc. reserves the right, in its sole discretion, to cancel or suspend this Sweepstakes should virus, bugs or other causes beyond its control corrupt the administration, security or proper play of this Sweepstakes. Palermo Villa, Inc. is not responsible for any injury or damage to any person's computer or related equipment resulting from or relating to participation in this Sweepstakes or downloading any material related to this Sweepstakes. Entries will be deemed made by the authorized account holder of the e-mail address submitted at the time of entry. In the event of a dispute, the potential winner may be required to provide proof that he or she is the authorized holder of the identified e-mail account.
Publicity Release: In consideration for accepting the prize, prizewinner hereby agrees and consents, without further authorization, compensation or remuneration of any kind, to the use of prizewinner's name and/or likeness in any and all advertising, promotions and other publicity conducted by the Released Parties except where prohibited by law.
Sweepstakes Administration & Marketing: Entrants may be contacted for purposes of Sweepstakes administration using the contact information provided by the entrant (e.g., winner notification). Each entrant may also be asked, but is not obligated, to consent (or "opt-in") to receive additional promotional emails or offers from or its sponsors. Subject to entrant's consent, entrant understands that Palermo Villa, Inc. or its sponsors may use entrant's information (including e-mail address) for marketing purposes and to provide entrant with information about Screamin' Sicilian or its sponsor's products, services and special offers and entrant expressly consents to the use of entrant's information for such purposes.
Disputes/Choice of Law; Arbitration; Waiver of Class Action: THIS SWEEPSTAKES IS GOVERNED BY THE LAWS OF THE UNITED STATES OF AMERICA AND WISCONSIN, WITHOUT RESPECT TO CONFLICT OF LAW DOCTRINES. Any controversy or claim arising out of or relating to this Agreement shall be determined by binding arbitration before a single arbitrator, administered by American Arbitration Association in accordance with its Commercial Arbitration Rules. The place of arbitration shall be in Milwaukee, WI. Judgment on any arbitration award may be entered by any court of competent jurisdiction. As a condition of participating in this Sweepstakes, Entrant further agrees that: (a) any and all disputes that cannot be resolved between the parties, and causes of action arising out of or connected with this Sweepstakes, shall be resolved individually, without resort to any form of class action; (b) the arbitrator may not consolidate proceedings of more than one entrant's claims and may not otherwise preside over any form of a representative or class proceeding; (c) Sponsor agrees to pay all arbitration costs for non-frivolous claims brought by an entrant; (d) for claims of $10,000 or less, the Entrant can choose whether the arbitration proceeds in person, by telephone, or based only on submissions; (e) an Entrant may as an individual claim in small claims court in lieu of arbitration; and (f) Sponsor shall not be entitled to seek reimbursement for its attorneys' fees in such arbitration or small claims action. IN ANY SUCH DISPUTE, UNDER NO CIRCUMSTANCES SHALL ENTRANT BE PERMITTED TO OBTAIN AWARDS FOR, AND HEREBY WAIVES ALL RIGHTS TO, PUNITIVE, INCIDENTAL, OR CONSEQUENTIAL DAMAGES, INCLUDING REASONABLE ATTORNEY'S FEES, OTHER THAN ENTRANT'S ACTUAL OUT-OF-POCKET EXPENSES (I.E. COSTS ASSOCIATED WITH ENTERING THIS SWEEPSTAKES). ENTRANT FURTHER WAIVES ALL RIGHTS TO HAVE DAMAGES MULTIPLIED OR INCREASED.
To receive prize winner information, send a self-addressed, stamped business-size (#l0) envelope by January 15, 2023 to: Palermo Villa, Inc. 3301 W. Canal St. Milwaukee, WI 53208. Please specify "Rules" or "Winner Information."
If you would like to learn more about the MKEsports Alliance or how to get involved, please email brandon@mkeesports.com.